APPLICATION
Step 1: NOMINATION
Students wishing to study at NUM as an exchange student must be nominated by their home university first. Home university's exchange division should send an official nomination letter to NUM. The nomination details will include student's full name, email address, period of study, academic major and intended field of study. Students should contact their home university to be nominated and we do not accept direct applications from students who are not nominated by their home university.
For exchange partners, please make sure that nominated students meet the following criteria:

Must be enrolled as a full‐time student at one of our exchange partner universities
Must have completed at least 1 semester at their home university
Must be in good academic standing at their home university
Step 2: ONLINE APPLICATION
After being nominated, students will receive an email explaining further steps and downloadable application forms. When applying online, students are required to send the following documents:
Photocopy of Passport (personal information page)
Application form /download/
Medical form /download/
HIV test
COVID-19 test result
Exchange student questionnaire /download/
International student pledge /download/
Certificate of enrolment (must be in English)
Official Transcripts (must be in English and contain all courses)
Identification Photo (must be taken against a white background / ears and eyebrows must be shown)
Step 3: ACCEPTANCE
The application screening process is conducted at once after we receive all applications. Students can expect to receive a decision on their application within one month from the application deadline. After being accepted, we will send student and home university an email notification with documents such as: official acceptance letter for home university and for visa purposes. For attaining visa, student will receive 4-digit code from Mongolian Immigration Service to apply for a visa.
Step 4: VISA
After being accepted and given the acceptance package and code, students will need to visit the Mongolia embassy or consulate in their home country to obtain a student visa. Obtaining a student visa is required for every non‐Mongolian student wishing to study in Mongolia. Students are advised to contact the nearest Mongolia embassy or consulate general in advance to find out required documents and avoid any confusion or delay before applying for visa. Visa fees may apply. NUM does not guarantee visa issuance for students.
Step 5: HEALTH INSURANCE
All incoming exchange students should have a health insurance that covers the period of their stay in Mongolia. Students are suggested to purchase their own health insurance in their home country and submit proof of health insurance to us before coming to Mongolia. The insurance policy should cover sickness, accident and death.
ACADEMICS
There are over 100 courses offered in NUM every semester. However, the degree programs at NUM are taught in Mongolia. Therefore, students who wish to choose from degree programs should be in command of good Mongolian.
Students may choose any courses from the list and mix courses from different departments regardless of their major. There is no prerequisite to attend courses in any year level too. However, students need to be certain about their capability to take those courses and determine at their own discretion.
Students can enroll in up to 15 credits per semester. There is no minimum number of courses or credits required for exchange students.
The course List is available at the following link: https://student.num.edu.mn/?page_id=7657
ACCOMMODATION
It is mandatory for all incoming exchange students to live in our on‐campus dormitory. We do not allow students to stay outside the campus unless under exceptional circumstances. Exchange students will be placed in a double occupancy room at our on‐campus dormitory. Each room is furnished with 2 single beds, bedding, desks, chairs, wardrobes, a telephone, internet connection, and a toilet. A variety of facilities are also available for students' convenience such as a laundry room, public kitchen, library, leisure room etc.
Dormitory fee:
Single room – 310.000 MNT /per month/
Room for two – 155.000 MNT /per month/
Room for three – 105.000 MNT /per month/
Fee per day/visitor/ – 30.000 MNT
MONGOLIAN LANGUAGE PROGRAM
The Department of Mongolian language and culture provides a Mongolian language program for exchange students who wish to improve their Mongolian language, explore Mongolian history and culture further. These courses cannot be counted toward an academic degree.
Intensive Mongolian language program for exchange students helps students achieve speaking, listening, reading and academic writing skills. The program is 6-10 months and intakes are in September and February. The courses are designed at six different levels:
Elementary /level 1/
Pre-intermediate /level 2/
Intermediate /level 3/
Upper-intermediate /level 4/
Advanced /level 5-6/
MLP also includes some extracurricular activities such as fieldtrips. Exchange students can experience a fun trip with other international NUM students and teachers to places of cultural and historic interest around Mongolia. Fieldworks, ranging from half-day to longer periods, will also be organized by the departments.
Exchange students also can enjoy following extracurricular activities and events
Orientation day
International Exchange Students Day
International Students Greetings Day
International Cultural Day
Sports Day
Graduation Ceremony
Mongolian Language Contests and research meetings
MENTOR STUDENT SYSTEM
International students can benefit from a personalized welcome phase, through a privileged contact with their mentor, and therefore receive enhanced support for administrative procedures, personalized visits of the city and place of study/work. To sum up they are supported whenever needed. Mentor students' objectives are: to improve the integration of students doing their academic exchange abroad; to internationalize campuses and local student life, while easing interactions, open mindsets and increasing mutual understanding; to strengthen partnerships welcoming international students (universities and associations) and allow them to develop long-lasting relationships between students.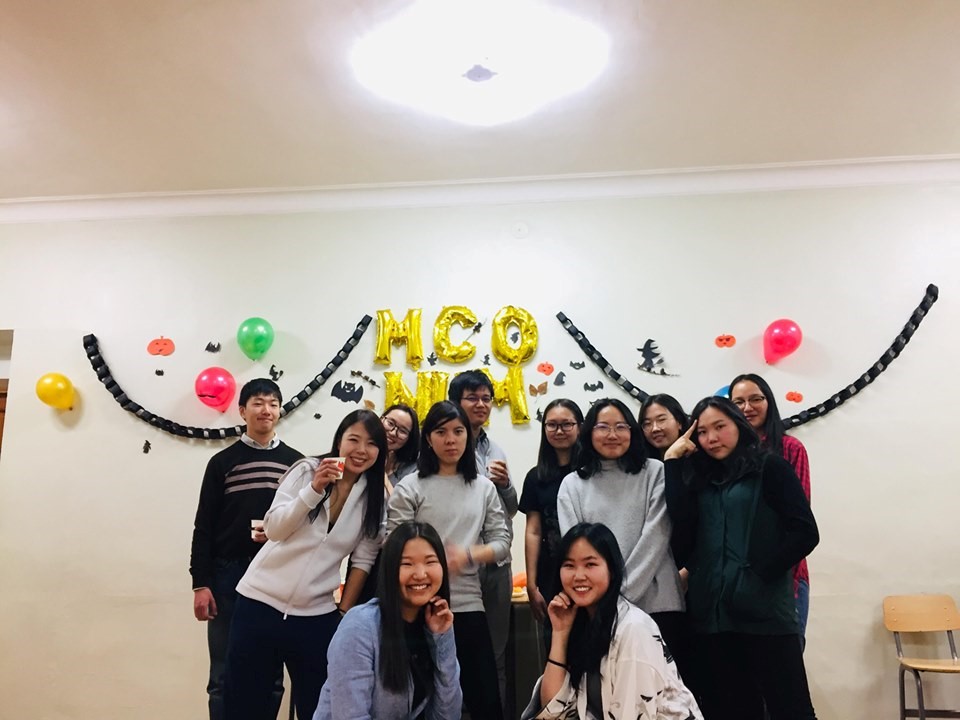 "WONDERFUL PROFESSORS WITH VAST KNOWLEDGE"
The NUM Mongolian Language Program offered me the opportunity to study under wonderful professors who were all extremely knowledgeable in their respective fields and to be able to interact with students from various countries, cultures and walks of life. The program also included a field trip which was a great opportunity to meet and socialize with different people whilst immersing in the Mongolian culture.
Szymon Sztengel /Poland/
"I WOULD LIKE TO EXPRESS MY GRATITUDE TO MONGOLIANS FOR WELCOMING ME WITH OPEN ARMS"
As the Mongolian classes are divided into levels, I was provided with a suitable class that went with my Mongolian proficiency level which made learning more efficient. In addition, plenty of events were held for the foreign students. For example: International student's Greeting Day and a 2-day-1night trip to National heritage place Terelj. Thanks to all these events I could make friends from different nationalities and create precious memories. Lastly, I would like to express my gratitude to the Mongolian people who have welcomed us with open arms.
Kim Youngung /South Korea/
"I ADAPTED EASILY AS I HAD A MENTOR STUDENT"
I adapted easily as I had a mentor student whom I could ask and get help whenever I needed. They are all knowledgeable and really passionate and all the other students are also friendly. Furthermore, I think the divided levels of classes are very suitable for foreign students.
Dankook Univesity exchange students /South Korea/
"I AM TRULY THANKFUL FOR THE TIME I HAVE SPENT AT NUM"
I am truly thankful for these months that I could spend at NUM and create good friendships with other students from several countries. I have amazing memories from classes and everyday life. We were able to experience the Mongolian teaching method within the university during which we learned Mongolian at intermediate advanced level.
Reka Horvath /Hungary/
"I WOULD LIKE TO EXPRESS MY GRATITUDE TO NUM FOR OFFERING ME SUCH OPPORTUNITIES AND EXPERIENCE"
Overall my university experience was extremely good. Firstly, I had some trouble understanding the mentality of Mongolians, but with the help of teachers and mentor students my university life was quite comfortable. I would like to express my gratitude to NUM for offering me such opportunities and experience.
Khandarkhaeva Daria /Russia/
CONTACT
National University of Mongolia
Student and alumni Affairs Office
Inbound/Outbound student exchange coordinator
Ms. Urangaa Chimgee
Email: studentaffairs@num.edu.mn
Telephone: +976-77307730 (ext:1516)
Address: Mongolia, Ulaanbaatar, Sukhbaatar district, Ikh surguuliin gudamj-1